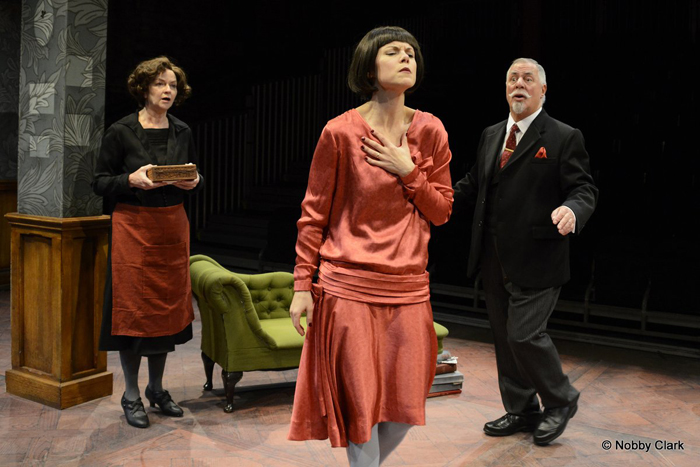 For Love Or Money interview for Broadway World
A fantastic new interview with Sarah-Jane for Broadway World has been shared online to promote For Love Or Money.
Tell us a bit about For Love Or Money.

It's an adaptation by Blake Morrison of an old French play called Turcaret by Alain-Rene Lesage. Marketed as a 'daft comedy about greed' it's set in a small Yorkshire town in the 1920's when corruption was rife and the 1929 crash lies ahead. My character Rose, a wily widow, entertains the advances of two dubious suitors One a fabulously rich and morally corrupt old banker and a young, handsome opportunist. So ensues a love triangle. Throw in a bailiff, a drunkard, a vamp, a second hand clothes dealer, and two upwardly mobile servants and the complications multiply.

What attracted you to the role?

First and foremost it was the opportunity to work with Barrie Rutter. Being a Northerner myself I had wanted to work for Northern Broadsides for a long time. This play popped into my life so it seemed the perfect fit. How have rehearsals been going so far? I love being in the rehersal room. It's a trip. It's like having the top of your brain opened up to accomadate all the new information going in. It's tiring and confusing and frustrating at times. You have to put yourself in a position of being completely vulnerable and willing to keep failing before you have the breakthroughs. But that can be extremely liberating. We laughed a lot during these rehearsals which i adore. The opportunity to be silly, with likeminded people.

What has it been like working with Barrie Rutter and Northern Broadsides?

I am having a ball. Rose is completely out of my comfort zone as an actress. I've never really played a character like her before so it's been challenging but Barrie is so very talented and experienced that I have just let myself trust his judgement and direction. Don't get me wrong, he aint perfect but he's so up for admitting if he gave you a bum steer and letting you do what you think is right. I really respect that and feel proud to be part of this fantastic theatre company.

We possibly know you best from playing Saint in Sugar Rush and Lauren in the Kinky Boots film- what else have you been up to?

I've been concentrating on getting back to the theater as before Betrayal I hadn't done a play since The Knocky at the The Royal Court in 1994!!! I spent a couple of months last year in New York with The Young Vic's production of A Streetcar named Desire with Gillian Anderson, which was mind-blowing. Then onto a production of Macbeth, my first professional Shakespeare. Lots of TV inbetween, notably a life changing (though I didn't know it at the time) year and a half playing Eddie McKee on the BBC show Holby City where a met my now husband Joseph Millson! I also did the American version of Broadchurch called Gracepoint with David Tennant and Anna Gun.

You also starred in a production of Harold Pinter's Betrayal, are there any particular challenges with acting onstage as oppossed to film/television?

The biggest one obviously is that you can't stop and start again on stage! It's live and the audience is right there staring at you. You walk on and get one chance to get it right. It's a much more heightened sensation than in TV and film. But the payoff is immediate which is lovely.

What's next for you after this tour of Love Or Money?

Professionally I have no idea yet but personally it will be being over the moon to be home and with my family.
---